​International Renewable Energy Agency predicts that by the end of the Solar Decade, the United States would have installed over 393GW of solar PV.
Among the world's regions, Asia is poised to dominate global solar PV installations in the REmap scenario, followed by North America and Europe.
​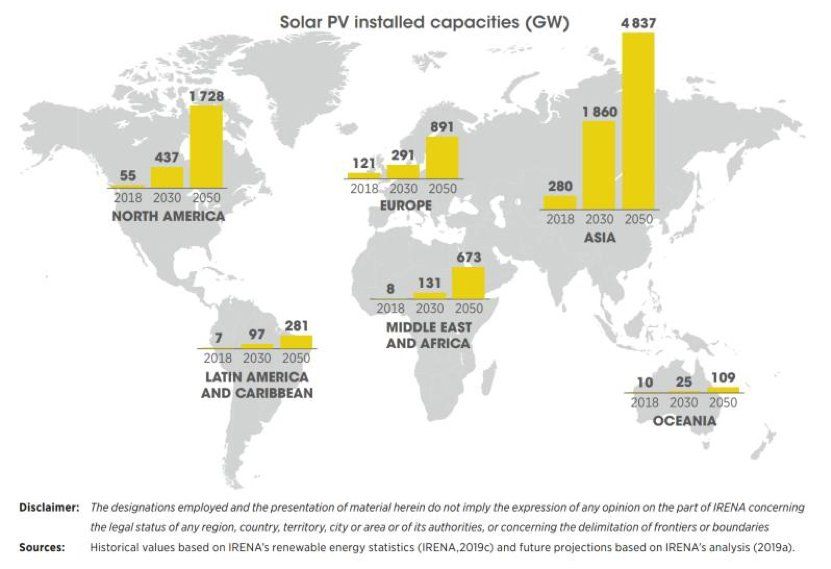 ​
The rise of Solar-plus-storage in the United States as grid balancers & back up electricity supply.
A new wave of solar farm development, pairing solar PVs with battery storage is accelerating across the United States, most notably in California, Hawaii, Florida and the Northeast. These dynamic renewable energy assets can operate past sunset and into the hours of peak electricity demand typically served by natural gas-fired and hydroelectric generation. But some of the biggest U.S. solar-plus-storage buyers are outside of California. Berkshire Hathaway Inc. affiliate NV Energy Inc., for instance, in June announced plans to add 1,190 MW of solar capacity paired with 590 MW of battery storage in Nevada.
https://ieefa.org/solar-plus-storage-projects-spreading-across-the-u-s/

Floating solar is a tiny but growing segment in the solar power industry.
Until recently, the US floating solar market has been slower to develop due to high costs and less market familiarity than ground-mounted & rooftop solar projects. In short, there is uncertainty around such a new technology but there is potential. The NREL estimates that there are 24,000 artificial lakes, ponds, and reservoirs that could host floating solar panels across the mainland United States.
https://www.salon.com/2019/12/03/no-land-no-problem-floating-solar-panels-might-be-the-next-big-thin...
​
​